Extraction Arm Type "L"
The Extraction Arm Type "L" are mostly made out of aluminium-materials and are deliverable in versions of 2 and 3 meter length. The joints made of die-cast aluminium are pretensioned at the factory-set montage. This tension is permanently obtained through a special spring-washer. A inserted sliding-disk enables smooth-running movements of the arm-segments, despite the forcing pressure employed by the pre-tension. The used springs are holding the arm stable, even at full workload and supporting the user after finishing the absorption process to fold up the arm. The absorption hood and tube are able to be customized for the needs of the costumers and with that the arm completed. 
Arm Type "L" Version 2 Meter with hood and tube DN 150 mm in connection with ventilator, used as welding fumes absorber, absorption-hood for absorption arms and point-absorbtions.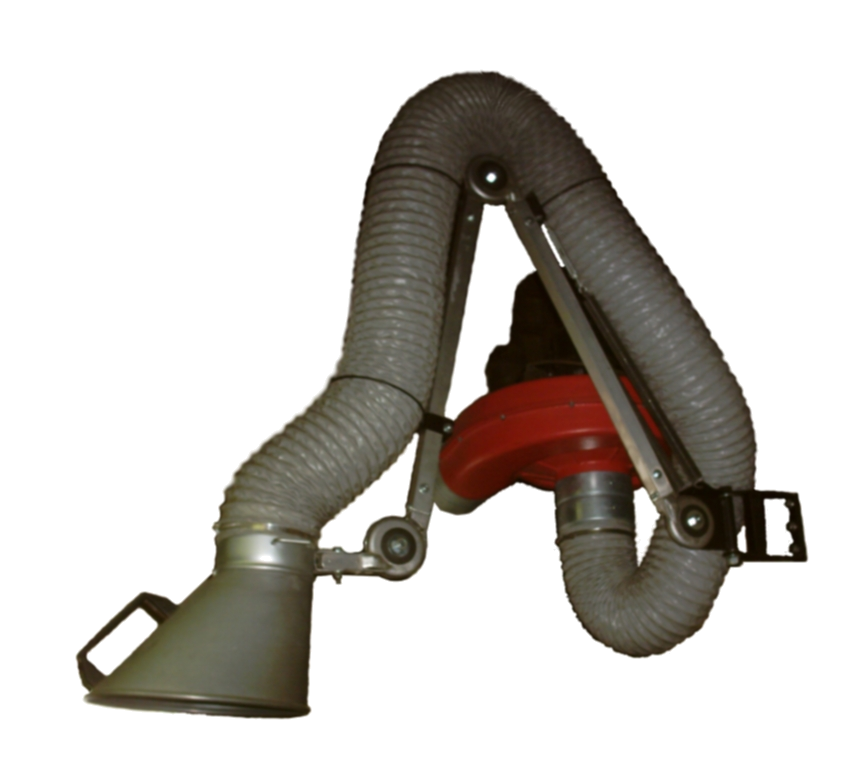 Application Areas
Our absorption-hoods are variable deployable. They are for example used in absorption-arms, which enable a flexible setup of the spot to be vacuumed or als at fixed point-absorptions.
These hoods can be delivered in almost any size size with connections for tubes from 100 mm to 250 mm. There are types with hand-protection and without, with throttle valve and without, galvanized or from painted metal sheet. Furthermore we offer these hoods also with an inlying illumination by costumer request.