Application areas:
The oil separator "Original Ölex KL600" is serving everywhere, where there is increased and high amounts of unfamiliar oils, caused by different influences during the production process, which pollute the cooling lubricant (emulsions). In the bypass-system the device is able to be placed just beside the tank, the eccentric screw pump plugged into a high voltage current plug and the swimming-absorption in the storage tank with the medium that has to be cleaned. The specific components are connected through flexible tubes. 
The millimeter accurate adjustable swimming-absorption takes the unfamiliar oils and emulsions located on the surface of the tank and guiding them over a pump to the cleaning circus in the KL 600.
The device utilizes the different densities of the emulsions and the unfamiliar oils and cuts off already a big part of them in the first phase.   
In the 2nd phase, the polluted medium will be calmed again with special fillers, so that more unfamiliar components are be able to deposit and also to cut off.
The cleaned emulsion will be supplied to the storage tank over drainage in the 3rd Phase. 
Technical Data:
Dimensions l x w x h:                 940 x 670 x 1050 (complete from stainless steel)
Tank-Capacity:               ca. 300l
Flow-rate:                            600l/h
Pump-Output:                 0,25 kW
Electric-Plug:               400 V / 16 A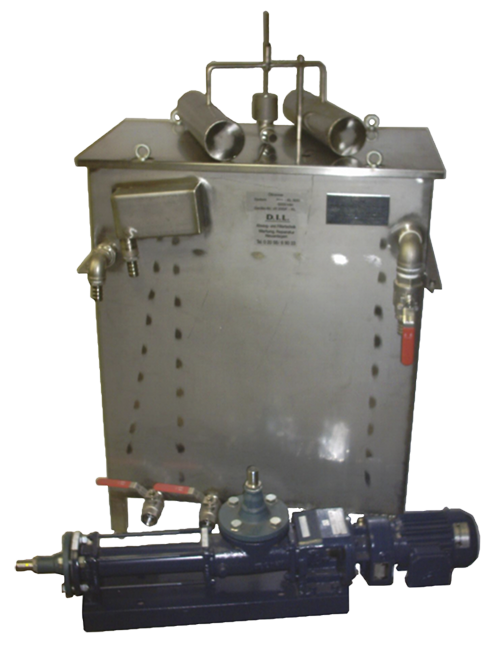 Accessory:
In the Content of delivery are:
Eccentric screw pump (If requested with dry running protection)
Swimming-Absorption (stainless steel, available in different sizes)
Basket with special fillers to calm down emulsions
All flexible, oil-resistent tubes that are necessary to operate the KL 600 (each 2m long, oversizes available on request)